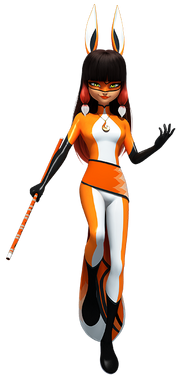 Volpina is the first akumatized villainess of Lila Rossi.
As Volpina, her personality is still intact, while additionally determined to get revenge on Ladybug. Wanting to make Ladybug suffer, she nearly convinced Ladybug to give up her earrings twice, almost tricking her with illusions of people she threatened to hurt, like civilians and Adrien.
Volpina is similar to the word volpe, which is Italian for "fox". The suffix "-ina" indicates "small" and is often used in feminine names among friends, as a form of nickname or pet name. Roughly translated, "Volpina" means "Vixen" or "Small Fox" in Italian.
Later, Thomas posted a picture on Twitter as a sneak peak of Lila (as Volpina) with the caption "Una ragazza italiana in Pariggi," meaning "An Italian girl in Paris."
Volpina's abilities are based on the Fox Miraculous holder and Rena Rouge's powers, similar to how Copycat has Cat Noir's powers, Antibug has powers similar to Ladybug's and Queen Wasp is similar to Queen Bee.
Her powers both as Volpina and Chameleon have to do with lies and deception.
Volpina appears another time in "Gamer 2.0" for Gamer's powers.
A statue of Volpina appears in the Musée Grévin in "The Puppeteer 2".
Community content is available under
CC-BY-SA
unless otherwise noted.