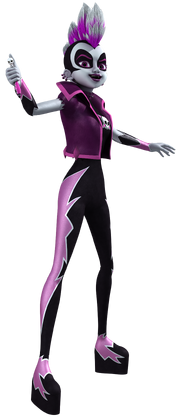 Troublemaker is the akumatized villainess of Penny Rolling.
As Troublemaker, Penny is mischievous, conniving and sneaky. She's also a bit of a showboat, making a great deal out of achieving one earring from Ladybug. She's also short-tempered, angry with losing Ladybug's earring quickly after achieving it, and with Ladybug's plan to stop her.
Troublemaker appears another time in "Gamer 2.0" for Gamer's powers.
Community content is available under
CC-BY-SA
unless otherwise noted.