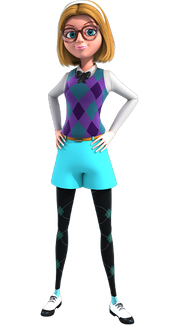 Sabrina Raincomprix
is a student in
Miss Bustier
's class at Collège Françoise Dupont and
Chloé Bourgeois
's "all-purpose girl."
Personality
Edit
Sabrina is a meek, mousy and very loyal girl to Chloé Bourgeois, who always trying to impress Chloé and get on her good side by helping her, to the point of service. Despite being constantly bossed around and bullied by Chloé, she can be surprisingly unpleasant and be conniving herself, as shown by her stealing Marinette Dupain-Cheng's derby hat design for Chloé in "Mr. Pigeon" and eagerly helping Chloé get Alya Césaire suspended in "Lady Wifi". Sabrina feels very guilty if she makes a mistake and has a warped sense of how friendship works, believing that she must completely submit herself to helping a friend, such as by doing their homework and pack their things. This can be seen in "Evillustrator" when she temporarily commits to a stronger friendship with Marinette and offers to complete the whole group project herself. However, Sabrina expressed joy at her liberation from Chloé's control, suggesting that she is actually unhappy in her situation.
Outside of Chloé's presence and assistance, however, Sabrina is nice and grateful for anyone's geniality, compassion, and generosity. She has no problem giving praise when it's due seen in "Darkblade", after hearing Marinette's speech. In "Mayura" where she even cheered for Marinette as she admitted her feelings towards Adrien. Sabrina seems to have a childish side to her as well, happily engaging in roleplaying games with Chloé and becoming distressed when the idea is rejected.
In past class photos, Sabrina's hair was the same, but her clothes different; a dark green sweater with a light green diamond pattern with a light green headband, black leggings with green diamond patterns along with light green socks; green shoes and the same dark grey ribbon on her sweater.
In earlier concept designs for Sabrina, she had full bangs with the rest of her hair worn up in a bun, her dress shirt's sleeves were shorter, and her sweater vest and sock pattern were shades of green.[5]
Originally, Sabrina and Chloé were supposed to be in a trio with Alix Kubdel, which was a reference to the main trio (Sam, Clover, and Alex) in Totally Spies![6]
As with most of the characters in the show, Sabrina's last name is a wordplay in French. In this case, Sabrina Raincomprix sounds like (Sabri...) n'a rien compris, meaning "(Sabrina) didn't get it" (most likely referring to her situation).
Unlike other akumatized villains, Sabrina's first akumatization form, Vanisher does not appear to get a different outfit upon being infected, only becoming invisible.
In "Robostus", Sabrina's hair has dark green highlights.

However, it is currently unknown whether this was intentional or an error.

At Mangafest in Spain, Thomas Astruc said that Chloé and Sabrina's relationship would improve notably in the future.[7]
As seen in "Miraculer", she is ticklish.
Community content is available under
CC-BY-SA
unless otherwise noted.