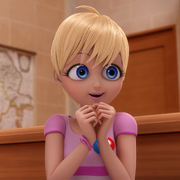 Rose Lavillant
is a student in 
Miss Bustier
's class at Collège Françoise Dupont. She is also the lead singer of Kitty Section.
Personality
Edit
Rose is a sweet, cheerful and naive teenage girl.[8] With an optimistic and happy attitude, Rose cares for everyone around her, often showing much gratitude, and she likes helping them, offering snacks and drinks to her classmates during their movie project in "Horrificator". Her kindness can occasionally lead her to a downfall (as she is naive), though, such as in the episode "Timebreaker" when the title character tricks her into helping her stand up and thereby erases her from time. She is also very sensitive, easily becoming frightened to run for class representative after competitor Chloé threatens to kick her out of the scrapbooking club in "Darkblade". In "Befana", Rose can be very brave when standing up for her friends. Her courage is further shown in "Zombizou", in which she risks herself to save Chloé from the titular villain's minions.
In the Latin American dub, Rose's name is Rosita.
During the derby hat competition in "Mr. Pigeon", Rose and Juleka are standing next to a derby hat with gears attached to it, suggesting one of them or both made the hat.
An earlier concept design for Rose includes her hair being slightly longer and curlier and her shoes having flowers on them.[9]
In the past class photo seen in "Reflekta", Rose has longer, roughly shoulder-length hair.
In "Princess Fragrance", "The Evillustrator", "Antibug", "Reflekta", and "Pixelator", it is shown that she is right-handed.
In "The Mime", Rose appears in the background alongside Juleka while Cat Noir is being tackled by the Mime under the Eiffel Tower.
She is the second shortest student in Miss Bustier's class, after Alix.
In her webisode, "Rose", it is revealed that she is the lead singer and the lyric writer of Kitty Section.
In "Reverser", Rose is part of the school's Art Club along with Nathaniel Kurtzberg, Juleka Couffaine, Alix Kubdel and Marinette Dupain-Cheng.
On May 17, 2017, the writers revealed that Princess Fragrance will reappear in Season 3.[10]

Since then, it has been confirmed that a scarlet version of Princess Fragrance will appear in the two-part special event "Heroes' Day".
However, due to the fact that the Heroes' Day two-parter was originally leaked as a Season 3 episode, but has since been confirmed as the finale of Season 2, the writers may have simply been referring to her appearance in this two-parter.

In the Season 2 theme song, Rose has pig stickers on her photo.
Princess Fragrance appears another time in "Gamer 2.0" for Gamer's powers.
A statue of Princess Fragrance appears in the Musée Grévin in "The Puppeteer 2".
Princess Fragrance briefly reappears in "Ladybug (episode)", but she is quickly de-akumatized.
Community content is available under
CC-BY-SA
unless otherwise noted.