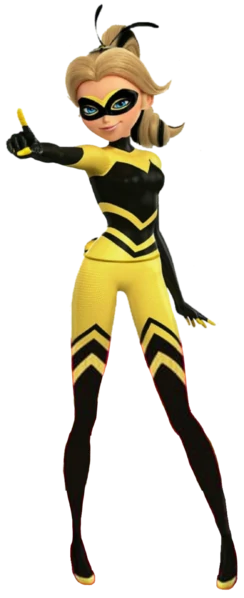 Queen Bee is the superheroine identity of Chloé Bourgeois.
As Queen Bee, she is proud of her abilities and wanted to prove herself to her mother by causing a subway train to go at dangerous speeds to save it so the civilians will be grateful towards her. She didn't care about hiding her superhero identity in the process, revealing Pollen to the public and transforming in front of everyone. She wants to be a famous, well-known, and well-liked hero just like Ladybug, so she called Nadja Chamack to film her saving the subway train. However, after a talk with Ladybug, she tearfully reveals that she is aware that no one in her class really likes her and feels useless. When given the Bee Miraculous by Ladybug, she heroically helps her defeat the titular villain and gives back the Miraculous without hesitation. Afterward, she slowly attempts to be a better person by cleaning up her own lair instead of having her butler do it. She was happy that everyone at school threw her a party in honor of her saving Paris.
Similar to Cat Noir, Queen Bee has a bit of a habit of leaping before she looks, meaning she is hasty or quick to act. This was seen when she quickly apologized to her father instead of listening to Ladybug's plan first and when she was eager to fight against Scarlet Moth's akumatized army.
However, she's the first person to be akumatized for a second time with a new identity and powers while being in her superhero form.
Queen Bee's existence was first revealed in 2015 in an illustration by ZAG celebrating MIFA's 30th anniversary.
The character was eventually confirmed to be Queen Bee during the Miraculous Ladybug panel at the 2016 San Diego Comic-Con.
She was later teased in a concept poster for the "ZAG Heroez" franchise that Jeremy Zag posted on his Instagram, the poster showing her lower body and legs.
She was teased again by Jeremy Zag in a three-second storyboard video.
The finished version of Queen Bee for the ZAG Heroez poster was released by Jeremy on Instagram, showing Queen Bee's face. He also tagged the image with #queenbee, suggesting that Queen Bee might be her name.
Queen Bee's design changed in many ways from the earliest known concept art of her.
She didn't tie up her hair as she lets it hang loosely and she had bangs.
She had a black and yellow striped round cap on the side of her head from which protruded two antennae.
Her hands were covered with yellow gloves, with the black sleeves ending at a point at the center of the front and back of them.
The top part of her torso--including her upper arms--was fuzzy.
She had a circular, yellow with black circles purse around her waist.
All of Chloé's akumatizations so far are based on superheroes (Antibug/Ladybug and Queen Wasp/Queen Bee).
Community content is available under
CC-BY-SA
unless otherwise noted.