Ella and Etta Césaire are Alya's younger twin sisters.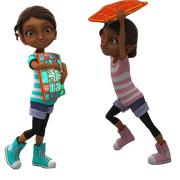 Personalities
Edit
Ella and Etta are fun-loving, enthusiastic, and mischievous. They often speak in unison, and they while they usually get along, they sometimes argue with each other over things like their possessions.
Very energetic, they love messing around, and they leap onto Cat Noir in excitement when he asks them where their house is in order to take them home. Disobedient at times, they enjoy causing trouble and blaming Sapotis for their behavior. However, they don't like being in trouble, and they cry when they are upset, like being devastated when Alya punishes them by telling them they won't get to go amusement park the next day.
Ella's name is a reference to Ella Fitzgerald, and Etta's name is a reference to Etta James, just as the rest of her family's names are references to jazz singers.
Their akumatized form was first revealed as silhouettes in a promotional poster on Jeremy Zag's Instagram.
Both Etta and Ella have been akumatized at the same time since they are both holding onto the object the akuma affects.
As the term "Sapotis" is from a Créole legend that Ella and Etta pretend to be, Sapotis is one of the few villains Hawk Moth does not technically name.
In one of Alya's instagram photos Ella and Etta have a teddy bear similar to Chloe's but in a different color.
Sapotis appears another time in "Gamer 2.0" for Gamer's powers.
Etta's and Ella's family comes from Martinique.
Community content is available under
CC-BY-SA
unless otherwise noted.