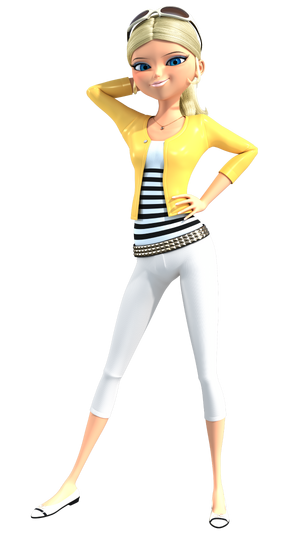 Chloé Bourgeois is a student in Miss Bustier's class at Collège Françoise Dupont, the rival of Marinette Dupain-Cheng and the enemy of Kagami Tsurugi. She is also the daughter of Andre and Audrey Bourgeois. She is a major recurring character in Miraculous series.
Chloé is a bossy, arrogant, and superficial girl who does everything in her power to crush and humiliate the other students, especially Marinette. She thinks highly of herself and lowly of others as she believes that she deserves everything and takes pride in her rich lifestyle. She believes that she is the most important person in the world and everyone adores her, but the real reason why she acts like this is because her father, the mayor of Paris, constantly spoils her by giving her everything she wants, while she felt unloved by her mother who was distant and kept forgetting Chloé's name.
If there is something that she wants, like attention or revenge, Chloé will do anything, including underhanded actions, to succeed. She steals Marinette's derby hat design to humiliate her and impress Adrien and Gabriel Agreste and threatens Mr. Damocles into punishing Alya Césaire by calling her father. Chloé rarely treats any of her peers respectfully, being acting bossy and overbearing to her best friend Sabrina Raincomprix and claims to her mother that she is just using the former. Her sour attitude comes across openly to whatever and whoever she despises, but she will sometimes pretend to be innocent and emotionally distressed to manipulate others in front of her father.
While being callous and careless to anyone but herself, Chloé could be cowardly, easily scared of danger often caused by akumatized villains, despite this changed through the series. Having helped caused some people to be akumatized, to her horror and confusion, she found herself their victim for revenge. Despite some of the villains calling her out for her nasty behavior, she disagreed with them, believing she was good. Chloé sometimes acts a little bit like a child or a daddy's girl. Her perceived childishness can also be observed through her affinity for roleplaying games with Sabrina, though could just as easily be a representation of her adoration for Ladybug.
Despite all of these traits, Chloé can be courageous as she is willingly helpful when asked by those she is close to or admires, such as helping Ladybug defeat the villain and asking help to the superheroine in order to save Adrien from her own akumatized mother. Like her mother, she has a fierce temper when angered. Chloé remains awful most of the time, but she shows a bit more kindness occasionally, expressing happiness when Ladybug is saving her or towards Sabrina. She also listens to advice at rare moments, like following Ladybug's suggestion to reconcile with Sabrina. If requested for a purpose, particularly by Adrien so that she can still be friends with him, she knows how to act congenial around others, although she often comes off as forced and can't keep it up for long.
On rare occasions, Chloé can be remorseful towards her actions, seen when she apologizes to Miss Bustier about forgetting her birthday and that her lashing out in anger caused trouble for everyone. After being deakumatized in "Queen Wasp", she sincerely apologizes to Ladybug and Cat Noir for selfishly using her superpowers and for what happened to Pollen because of her actions. In "Animaestro", her attempts to be a better person continued, finding out that Marinette had a crush on Adrien but decided not to tell because she thought it was a waste of time, with that being her way of being nice, proving that both Adrien's and Marinette's words left an imprint on her.
Ultimately, Chloé's abrasive and selfish attitude stems from a massive inferiority complex, born from the neglect her mother showed her as a child. As seen through their interactions, Audrey cares little for her daughter, even failing to remember her name on many occasions, and only gives attention to things that interest her. This has caused Chloé to try and emulate her mother's unpleasant behavior in a vain attempt to win her affection. Additionally, she often shows a lack of self-confidence behind her arrogance, feeling as though nothing she does has any real value no matter what she tries, even referring to herself as "useless" to Ladybug in "Malediktator". Yet once she received the Bee Miraculous she finally began to feel as though she had true worth and value and after a few missteps showed a true desire to help those around her.
Also, in "Stormy Weather 2", when she insulted Aurore and it led her to be akumatized, Chloé waited for Ladybug to give her the Bee Miraculous, showing she wanted to fix her mistake.
However, in "Heart Hunter", Chloé had grown resentful toward Ladybug for being passed up too many times. When her parents were akumatized, she hoped that Ladybug would give her the Bee Miraculous so she could save them. Instead, she sees that Ladybug chose another heroine over her and grows very upset. Hawk Moth, who managed to steal the Miracle Box, gave Chloé the Bee Miraculous and used her anger to manipulate her into turning against Ladybug, all without akumatizing her.
In "Miracle Queen", after Ladybug deakumatizes her, takes back the Miracle Box and the Bee Miraculous, and expels her from the French superhero team, Chloé bitterly renounces her loyalty and friendship with Ladybug, officially becoming her enemy.
Throughout all the seasons so far, Chloe's trademark catch phrase is "Ridiculous. Utterly ridiculous" in a few various forms. If nothing goes her way or finds something totally absurd, that's when she'll use that phrase.
Throughout the show's first season, Chloé was portrayed as a stereotypical spoiled, egostical and vindinctive girl who bullied her classmates at Collége Francoise Dupont and loved to use her status as the daughter of the mayor of Paris to hold power over them and even the faculty. Her ego is so great that, when she first found the Bee Miraculous and became Queen Bee, she went as far as to cause a train accident so that she could stop it and be recognized as a hero for it. However, the Season 2 episodes "Zombizou" and "Despair Bear" showed that she did have a nicer side to her, as she apologized for her role in Miss Bustier's akumatization and saved Ladybug from being killed by the titular akumatized villain respectively, and from there on she began to slowly but surely become a better person, with Ladybug even allowing her to be her ally as Queen Bee.
However, Chloé goes back on her change of heart in the Season 3 finale, where her growing resentment for Ladybug for not allowing her to be Queen Bee anymore because her secret identity being known by Hawk Moth would endanger her and her family leads to her being manipulated by Hawk Moth into joining his cause so she can have revenge on Ladybug, even willingly letting herself be akumatized into Miracle Queen. After being deakumatized, Chloé shows no remorse for working with Hawk Moth and even tries to grab another akuma released by Hawk Moth and reakumatize herself.
In earlier concept art of Chloé, she doesn't have her hair in a ponytail. She wears a purple vest with a diamond pattern around the waist, a white long-sleeve shirt, and blue jeans.
This is very similar to Sabrina Raincomprix's current outfit.
Also, in one concept art, Chloé is watching a fashion show with Marinette Dupain-Cheng and Alya Césaire, suggesting that she may have been friends with them in an earlier concept.
A later concept art design for Chloé included a white cardigan with a black edge, white shorts with black stripes, and high white boots with black edges and soles.
Originally, Chloé and Sabrina were supposed to be in a trio with Alix, which was a reference to the trio Sam, Clover, and Alex in Totally Spies!
The name Chloé means "blooming" and "fertility".
The name Chloé also can mean from both ancient Greek and biblical origins. In Greek, the name is closely related to the goddess Demeter and represents fertility and fresh blooming. In the Christian bible, the name means "green herb."
Chloé's surname Bourgeois is a French term that is used to describe a member of the middle class within France.
The fact that she looks down on people who aren't as popular or rich as her is a reference to this.
Thomas Astruc explained at Mangafest in Spain that Chloé was intentionally created since the beginning to be as unpleasant as possible.
Chloé's character description on the official Miraculous Ladybug website states that she is Marinette's "greatest frenemy."
In "Antibug", it is hinted that Chloé is seen to be a left-handed person.
A lot more information about Chloé, such as her backstory, will be revealed and expanded upon in the future.
Particularly, the "drums and kisses" episode will be a first step to learning more about Chloé.
This episode is later to be revealed to be "Zombizou", it is then followed by "Style Queen", "Queen Wasp", and "Malediktator".
Some of Chloé's Ladybug paraphernalia can be seen in her locker in "The Evillustrator"
According to Sabrina in "Zombizou," Chloé never remembers people's birthday, just like her mother.
She also doesn't like birthdays due to sole reason.
In the future, according to Thomas, Chloé will not end up in a romantic relationship, but her relationship with Sabrina will improve a lot.
Her akumatized form appears as Antibug in the theme song animatic.
Like Copycat with Cat Noir and Volpina with the Fox Miraculous holder, Antibug is a copy of a Miraculous holder. However, her appearance and superpower, Anti-Charm, are the opposite of Ladybug's.
She is the third person to be akumatized for the second time following Alix Kubdel and Ivan Bruel.
However, she's the first person to be akumatized for a second time with a new identity and powers while being in her superhero form.

Queen Bee's existence was first revealed in 2015 in an illustration by ZAG celebrating MIFA's 30th anniversary.

The character was eventually confirmed to be Queen Bee during the Miraculous Ladybug panel at the 2016 San Diego Comic-Con.

She was later teased in a concept poster for the "ZAG Heroez" franchise that Jeremy Zag posted on his Instagram, the poster showing her lower body and legs.

She was teased again by Jeremy Zag in a three-second storyboard video.
The finished version of Queen Bee for the ZAG Heroez poster was released by Jeremy on Instagram, showing Queen Bee's face. He also tagged the image with #queenbee, suggesting that Queen Bee might be her name.

Her identity was later revealed to be Chloé at a Miraculous panel at New York Comic Con 2016.
Queen Bee's design changed in many ways from the earliest known concept art of her.

She didn't tie up her hair as she lets it hang loosely and she had bangs.
She had a black and yellow striped round cap on the side of her head from which protruded two antennae.
Her hands were covered with yellow gloves, with the black sleeves ending at a point at the center of the front and back of them.
The top part of her torso--including her upper arms--was fuzzy.
She had a circular, yellow with black circles purse around her waist.

Wilfried Pain commented in an interview that knowing Chloé, she will be showing off a lot as Queen Bee.
Chloé is the first Miraculous wielder shown not to maintain a secret identity onscreen.
Chloé is the second known person after Gabriel to have a Miraculous that wasn't meant for her. But unlike Gabriel, who uses the Butterfly Miraculous evilly, Chloé used the Bee Miraculous to become a superhero.
Following Alya Césaire and Nino Lahiffe, Chloé is the third person to become a Miraculous holder and akumatized villain, excluding Gabriel Agreste, who akumatized himself.
Queen Wasp was first revealed on August 31, 2017, at a TFOU press conference.
Queen Wasp appears in the trilogy, "The Queen's Battle", along with two other villains: Style Queen and Malediktator.[19]
Queen Wasp is another akumatized villain to be based off of a Miraculous holder, previous times being with Copycat, Antibug and Volpina.

All of Chloé's akumatizations so far are based on superheroes (Antibug/Ladybug and Queen Wasp/Queen Bee).

In the Slovenian dub, her name is changed to Clara Bourgeois.

She has the Slovenian name which her mother Audrey called her.
She has the Slovenian name like Clara Nightingale's name.

As of "Miraculer," Chloé is the first person to be able to successfully resist Hawk Moth's akumatization.
Antibug appears another time in "Gamer 2.0" for Gamer's powers.
A statue of Antibug appears in the Musée Grévin in "The Puppeteer 2".
Chloé has her own official Instagram account. You can find her under @theofficialchloebourgeois.

She mentions that she used to do ballet when she was younger.
Her signature color is canary yellow.
She aspires to be a fashion queen like her mother and gets her looks from her too.

According to Feri Gonzalez, colorist for ZAG inc and the ambassador for Miraculous: Tales of Ladybug & Cat Noir in Latin America, Chloé had never changed at all during the later parts of Season 2, and the entirety of Season 3. She only wanted to be Queen Bee, not only to help others, but to get recognition.
Community content is available under
CC-BY-SA
unless otherwise noted.