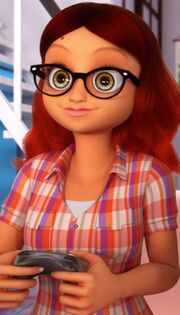 Alya Césaire is one of major recurring characters in Miraculous Ladybug and Marinette Dupain-Cheng's best friend.
Alya is rather energetic, passionate, and funny, confident, yet down to earth. Alya's foresight have come in handy many times. After Marinette thinks she accidentally lost a video of Ladybug on Alya's cellphone, she explains that she had already posted the video on her blog, mindful that something might go wrong when she showed her clumsy friend the video. When it comes to anything involving Ladybug and Cat Noir, she easily becomes very excited and basically has a single goal of updating her blog as soon as possible, such as when she is kidnapped by the Pharaoh to be a sacrifice yet still records herself and live streams the video on her blog. Sometimes, she goes too far, such as spying on Chloé's locker, which results in her getting punished by Mr. Damocles. Alya doesn't like being undermined or doubted by others, especially when it comes to her work. If someone points out something wrong to her, she is to stubborn to admit they are right. Though her research is generally right when she takes her time, Alya tends to jump to conclusions, like quickly suspecting Chloé of being Ladybug after seeing the girl with her own Ladybug suit and yo-yo and mistaking them for the real one. She also has a habit of never checking her sources or doing ethical investigating of her blog posts, while demanding others to provide proof for their claims, even though she doesn't do that herself often.
Alya is extremely loyal, supportive, helpful, and sometimes pushy, such as when she goes out of her way to encourage and (sometimes literally) push Marinette into spending time with Adrien. She is also very stubborn when it comes to doing things her way, such as the photo shoot of Marinette's fashion line. Another side to her is that she can be a bit demanding at times just as keeping Nino in line about revealing Marinette's crush on Adrien. Alya has a dramatic side to her personality, such as when she pretends to be a unicorn with Manon and later makes an excuse to Adrien's photographer, who asks her to be a support model for Adrien, so Marinette can do the modeling instead. Having to babysit her younger siblings at home, she is great with kids, though sometimes she pushes her responsibility of watching them on Marinette so she can go on dates with Nino.
As described by Cat Noir in "The Pharaoh", Alya is a "brave chick", unafraid to get close to villains in her pursuit of the truth, tending to forget her safety at times and needing rescue by the very superheroes she is filming. As Ladybug, Marinette calls Alya bossy, feisty, and bold. Her bravery and determination has helped both civilians and superheroes, such as when she makes a plan with her classmates to save Marinette and sacrifices herself in the process or rides a bike to distract the Gigantita from harming Ladybug, showing a more compassionate side towards her beloved ones in danger and great skills in leadership.
Alya holds great admiration and respect for the two superheroes, especially Ladybug, wishing to know anything and everything about her. Much more, she wildly dreams of knowing Ladybug's identity, not once thinking about the consequences of posting the information on her blog, as Marinette pointed out to her in several episodes. However, she would respect her desire to keep it secret. Alya wishes to work alongside her, her dream coming true when the superheroine chooses her to wield the Fox Miraculous and asks her for her help in defeating Sapotis. She greatly values the trust Ladybug has in her, making her someone of her word above her burning desire to continue helping her teammates and thus giving her Miraculous back.
Alya's name is derived from the R&B singer Aaliyah, just as the rest of her family's names are references to jazz singers.
In Slavonic, "Alya" means "beautiful" or "scarlet," possibly a reference to her red-brown hair. In Arabic, "Alya" means "sky," "heaven," or "loftiness."
Her surname, Césaire, is a name variation of "Caesar", which translates to "hairy", akin to her large wavy hair.
In the Serbian dub, her name is changed to Ajla Sezar.
In older concept art, Alya didn't wear glasses but instead wore sunglasses on top of her head.
Alya is the most recurring supporting character of the series, appearing in nearly every episode, alongside Marinette, Adrien, Hawk Moth, Tikki, and Plagg.
Likewise, Lady Wifi made the most appearances of any akumatized villain in the first season.
In "The Evillustrator", she reappears in Nathaniel's fantasy, teaming up with Stormy Weather to attack Marinette.
In "The Puppeteer", she makes her third appearance while being controlled by the titular villain.
Lady Wifi appears another time in "Gamer 2.0" for Gamer's powers.
A statue of Lady Wifi appears in the Musée Grévin in "The Puppeteer 2".
Her family comes from Martinique, which is possibly a reference to Aimé Césaire.
Despite that Alya was a new student in the current school year and didn't know any of the school's students beforehand, she says that Chloé may have been Class Representative since kindergarten in "Darkblade".
In Season 2 and later comics, Alya has more interactions with Nino.
News of Alya appearing as a superhero in an upcoming season was first released at Anime Expo 2016 during the Miraculous Ladybug panel.
Rena Rouge's identity was later revealed to be Alya at the Miraculous panel at New York Comic Con 2016.
It was confirmed again at the panel at San Diego Comic Con 2016, along with revealing her debut to be in Season 2.
Her superhero name was revealed at a TFOU press conference on August 31, 2017.
The final concept design of Rena Rouge was revealed at the New York Toy Fair 2017 as a preview for a fashion doll and action doll of her.
Alya's role as the future holder of the Fox Miraculous was foreshadowed in the second opening, in which she was shown with a fox emoji.
Alya is the first superhero to integrate Ladybug and Cat Noir's team, excluding themselves.
Alya is the first person to become an akumatized villain and a Miraculous holder, excluding Gabriel Agreste, who akumatized himself.
Rena Rouge means "Red Fox" in French, as Rena is short for renarde, which is French for "fox," and rouge is the French word for "red."
Alternatively, rena could also be referring to the word for "fox" in Haitian-Creole.
In the Italian dub, she is called Volpe Rossa which also means "Red Fox".
In the dub for Portugal, she is called "Fox Rouge" which, like Cat Noir, is a combination between the English "fox" and French "rouge" for "red".
According to a synopsis on Le Figaro, Master Wang Fu would call on Rena Rouge.
As revealed in "Syren", she still gets called on by Ladybug to be Rena Rouge from time to time, but she always gives back the Fox Miraculous when she is done.
Similar to Cat Noir, Rena Rouge's ears and tail are fake, but it is unknown if they respond to her mood and emotions, or if they can enhance senses.
Ladybug presents the Bee Miraculous to Alya in "Style Queen" but she is turned into a glitter statue before she can accept it.
Lady Wifi is the first villain that manages to remove a Miraculous from one of the heroes without making it disappear, as Cat Noir drops his ring when she throws him into a freezer. However, she is unaware of the success as she focuses on Ladybug at the time.
The next to do so was the titular villain in the episode, "The Dark Owl".
When Alya and Nino become Oblivio, their supervillain name is a pun on the word oblivion, which means, "the state of being unaware or unconscious of what is happening."
Alya has her own official Instagram account. You can find her under nick @alya.ladyblogger.
She mentions starting a bullet journal in one of her Instagram pictures.
Due to her dad's job at the zoo, on occasion, he lets Alya and her friends or family in after hours.
She doesn't only search for information about Ladybug and Cat Noir she also started looking for information on other Miraculous heroes.
Community content is available under
CC-BY-SA
unless otherwise noted.